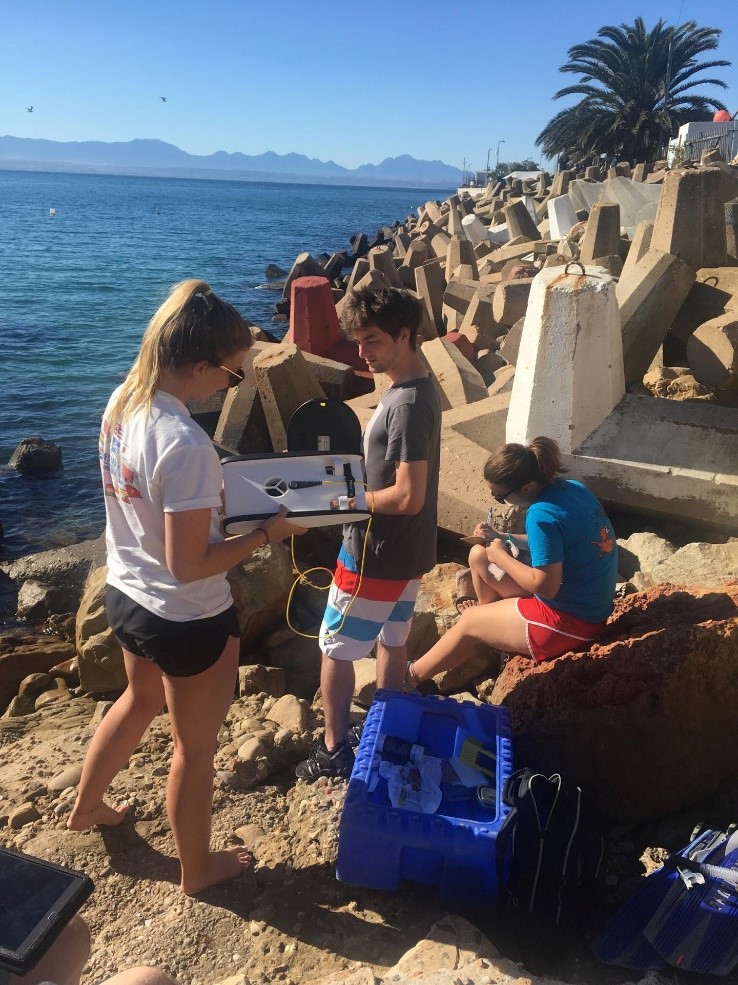 OpenROV Blog Post 6: Our Interns Take Charge
Posted by Kaitlin, Karagan & Quentin on June 27, 2018
Our interns took charge of the ROV for a shift, and we gave them the opportunity to write a blog about their experience.
Today, us interns were the guinea pigs to Tom's new project and performed the first official shift to look at fish abundance by Kaai 4, a local restaurant. Since we had trouble navigating the ROV on the last trial shift, we were a bit nervous to run a transect parallel to the rocks by the harbor.
Surprisingly, we were able to navigate the ROV much more successfully and only got lost a handful of times. After Tom and Karagan each performed a recorded transect, we attached a little bait box to the base of the Trident stuffed with a local baitfish (steentjie). Again, each intern and field specialist took the ROV for a spin and recorded two more transect lines.
We enjoyed running official transects to put our skills to the test. While sounding good in theory, we found problems with the bait box. Both arms of the bait box broke off, resulting in the loss of the bait box in the water, but thankfully it was retrieved via snorkeling and was reattached. Looking into the future, we hope to find a more secure way to attach the bait box to the ROV.
You can check out our Open Explorer page on the National Geographic website, which follows the journey of our project: https://openexplorer.nationalgeographic.com/expedition/discoveringmosselbayssecrets