Character Interview: Dr Enrico Gennari on Mike Horn's Young Explorers Program
Posted by Enrico Gennari on November 10, 2016
Our director Enrico Gennari shares his experience on Mike Horn's vessel and the impact on him by the Young Explorers Program
Enrico was recently a key member of explorer Mike Horn's Pole2Pole Shark Project Expedition, and had the honor of working alongside Mike aboard his yacht, Pangaea.
Cape Town, October 2016
Oceans Research usually interviews a collaborator expert in his/her field to portray different carriers in marine sciences. However, this month I was invited to take part in a shark tagging expedition by Dr Alison Kock of Shark Spotters and her crew, in collaboration with the Two Oceans Aquarium. The aim was to acoustically tag sevengill sharks (a.k.a. cowsharks) along the West Coast of South Africa, at Robben Island and Saldanha Bay.
The expedition was a great success. Yes of course you can read about the scientific outcomes of the expedition through the main PIs of the project: we tagged 15 sevengill sharks, possibly discovered a new nursery area, found a new aggregation site with obvious sexual segregation (quite common for this species) etc… this experience however gave me much more. The whole idea of the Mike Horn's Young Explorers Program is more than inspiring. I expected young adults, 'tagging along' (sorry, I could not resist to use the pun) to watch what scientists were doing and gaze at some cool sharks. Instead, by talking to some of them, I realised it was not just a bunch of young 'kids' making up an audience, but they were chosen very carefully to make an impact. They were clearly selected based on their dreams and abilities; what each of them could provide to the world in the years to come. Each kid was therefore incredibly unique. For instance Andrea, a vet, very hands on, who helped us a lot, even in the surgery part of the tagging… each of them was expert (and I am not using this word lightly) on, for instance, journalism, political sciences, media and communications, marine biology, mechanical engineering… and each of them brought something to the project and to me in particular. I realised I was no longer just the tagger, but the recipient of something I did not expect to receive… passion.
Naturally, some of them stepped into the tagging project immediately. Others took a bit longer but still found their way to be invaluable. I think indeed one of the greatest achievements of this expedition was the group proving that the sum of many is much more powerful than the power of one. Of course, you could say "wait a second, Mike Horn does many of his expeditions by himself". However, even behind a 'solo' explorer who walked, swam or paddled along the whole equator and is about to traverse by himself both Polar regions, there is a team behind him, working together: photographers, videographers, boat crew etc. From his daughter Annika working at night to pass the experiences and achievements of each day through social media, inspired as well by working with passionate young people, to Jacek, an incredible sea-wolf living on the vessel as he gets too landsick, Laure helping to keep the boat organised and the crew happy and fed. I am sure that is only a small portion of the team I met. Furthermore, the concept of Young Explorers Program is not about Mike, but about passing along his experience to people with skills who can treasure that experience and find ways to pass the torch to the next generations: an exponential structure, fueling a viral global long-term movement.
Mike once told me that he decided long ago to invest in the biggest resource the planet has. Because we were on his boat, I immediately thought he was referring to the underutilised renewable energy of the ocean, but instead he surprised me by saying he meant the youth. Why was I surprised? I do usually say on my public talks that it's difficult to change people's perspective, however young minds are easy to mold and influence, and that is where I also focus.
I have to say that learning from Mike isn't an easy task. He allows you to make mistakes, whilst being firm when something needs to be done and needs to be done 'his' way (I am sure we can all agree he has enough experience to say his way is a good way when it comes to Mother Nature). Plus, we were on a boat, so you do what the captain tells you to do for good reasons.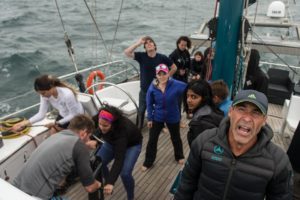 Nonetheless, when you have his knowledge, a firm request from him is always accepted as a learning opportunity and not a hollow command. That introduces me to another incredible situation I witnessed onboard. There were moments when fishing for sharks to tag was slow and nothing was happening as the sharks were 'quiet'. Often, all of a sudden a small group of Young Explorers gathered around Mike chatting to him about different things. To me, it almost looked like a biblical figure, where the disciples were listening to their messiah. However it was not about fanaticism, nothing like "I want to be like Mike". When I asked what they want to do later in life, none of them told me they want to be like Mike, instead they said things like "I want to be a lawyer making an impact on the social issues". It was incredible realising the respect they have for Mike. Both Tim and Zophia, marine biologists, were still involved after 4 years from their first Young Explorers expedition, because of the impact of their first expedition. They described it as a life changing experience, which had tremendous positive consequences in their lives, carriers, and dreams.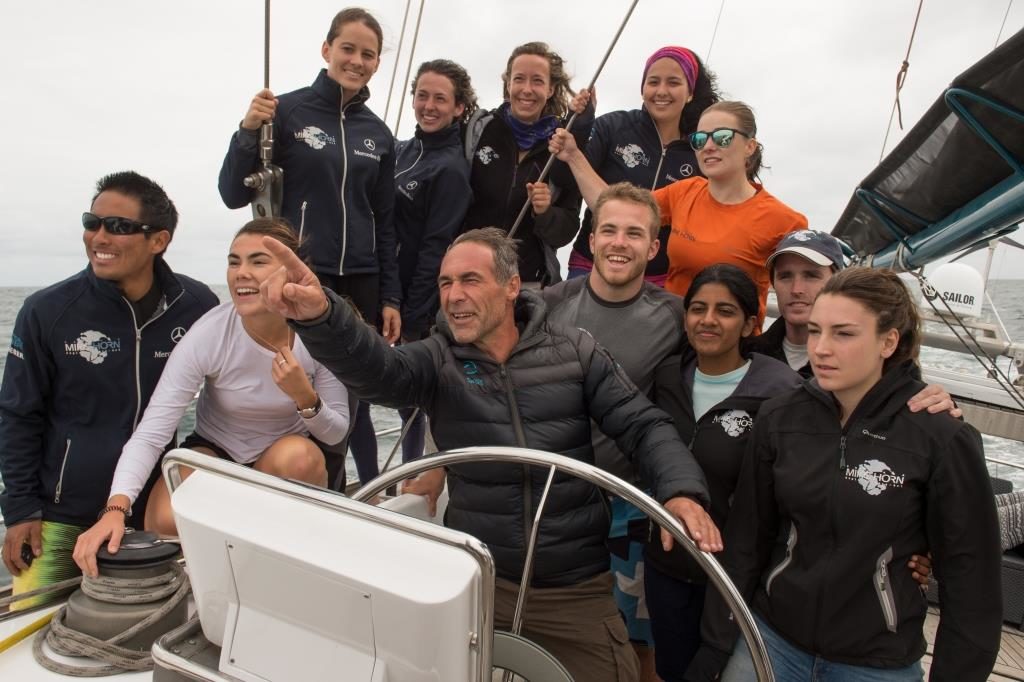 Now their lives are even more focused on the present and what they can do with it. Like in a trip when "you don't know, and it doesn't really matter, where you are going, as long as you are going", I agree we should focus more on what we can do now. Living should be like travelling, not much about reaching a destination or going on holiday to reach a place, but also (and maybe mostly) about how you travel, what you experience, what you learn from the people you meet along the way… travelling shouldn't be an unwanted attachment of a holiday. On a side note, Mike told me he remembered when his grandmother used to prepare food for the whole family travelling all together in a car… that was already the holiday, the fun, the experience, something to share and cherish together and not something to let pass by putting headphones on and isolating yourself.
Observing how the Young Explorers live their dreams today, inspired by one person, was just incredible. Of course, discovering untouched places through the Amazon forest or skiing in Antarctica are super cool experiences for them, but it was much more than that: learning an attitude, a way to deal with life, not just as a countdown toward an end but really enjoying, appreciating and learning from every single moment, making an impact!
As scientists, we are often advised to be afraid of sharing duties, stories and information. We sometimes don't realise the potentials of collaborating and using other people's abilities. I learned a lot from the Young Explorers, and I hope I did touch at least some of their minds and hearts at least as much as they touched mine. If, one day, I can say that I did indeed influence a young mind who later became the Minister of Environment of his/her country, or a top environmental lawyer, it's likely that would have been one of my greatest achievements.
So I want to say thanks Mike and his team, the Young Explorers, Shark Spotters and the Two Oceans Aquarium for an incredible research experience, lots of laughter during the downtimes while waiting for sharks, but mainly thanks for opening my eyes to the Young Explorers Program, its concept, and how far it can reach.
Now, being inspired, I have lots of ideas for new projects, keeping to the theme that we have never arrived but life is a continuous journey… Lacio Drom!, a gipsy term for "bon voyage!".