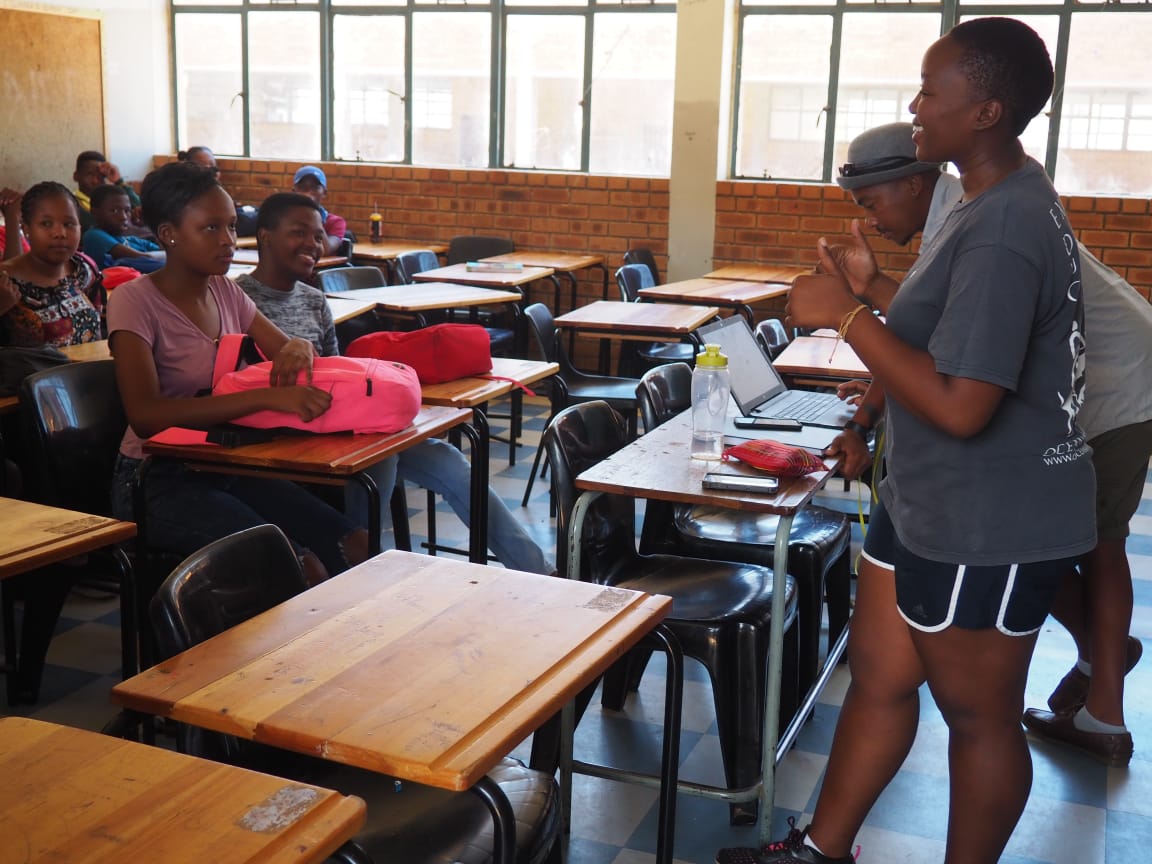 Interview: Oceans Research Outreach Officer, Sophumelela Qoma
Posted by Esther Jacobs on March 11, 2019
Sophu Qoma was an intern with Oceans Research for most of last year, as part of her Diploma in Nature Conservation. She has now returned to us as an outreach officer, with big plans for community education projects. She's also an ambassador with conservation campaign, Keep Fin Alive.
Tell us about the project you're currently trying to implement in Mossel Bay.
The name of our program is Sea-the-change, and the aim is to provide basic marine employability skills to some of the youth in Mossel Bay. We are still birthing this project, so we will be starting with four students at Indwe High School with hopes that funding will help us to continue.
We started working with Indwe last year, due to their high percentage of students coming from disadvantaged homes, where we were tutoring science matric students.
KwaNonqaba has about 70% unemployment rate, and 57% are known to be earning less than the minimum wage, which is almost R12.00 per hour. This shows that skill development is an absolute necessity to open young people to many more opportunities that Mossel Bay and beyond has to offer.
What was the inspiration behind the project?
Enrico Gennari, Director of Oceans Research, approached me last year to come up with a project that has the potential to change the livelihood of the communities in Mossel Bay.
The first idea was teaching people to swim. Most people in the communities are facing the ocean and see it every waking hour, but many still do not know how to swim. Including myself to say the least, hence this is so close and personal in my heart.
Many drownings occur annually, and most of the victims come from inland communities where they haven't been taught the skills to swim or awareness of the ocean.
We are a conservation driven company, working with the mega fauna and attempting to educate and bring awareness of these species, and the importance they have in our ecosystem. This made me realise, how can we then expect people to care, conserve and protect the marine mammals if they feel as though they don't place any value to them.
There are many myths in our black societies, such as, a twin must put a silver coin in the water before entering, otherwise they will drown. These things tend to create a mental blockage, which doesn't always make it easy for black people to get into the water.
We are trying to break barriers with this project by showing more opportunities that are for the taking in the marine industry.
Have you been involved in any similar projects, and if so, how successful were they?
I have been involved with tutoring science students last year, at Indwe. With our help, their results doubled what they were the previous year.
Throughout 2018, I had the opportunity to bring marine conservation awareness to all ages, through speech and puppet shows, alongside Keep Fin Alive.
What will be the main goals for the project?
We will be teaching them to swim, enroll them in a life saving course where they will be able to gain a life guard and 1st aid qualification, and they will also be doing a pre-sea induction course which is a basic seamanship training course. With these qualification they will can get opportunities to work for either commercial, research or cruise boats, become a cadet and beyond.
What benefits will this create for the Mossel Bay community?
Empowerment!
These four students will be bringing hope, joy and pride back into the communities. There will be a domino effect on others, to be more future and vision orientated, knowing that when you put your mind into something, no matter the circumstances, you will come out rejoicing on the other side.