Benefits
How helping Oceans Research can help you
As a non-governmental organisation, we rely on support from philanthropists and organisations who share our vision and passion. We do however recognise that a crucial aspect to sponsorship can be gaining brand exposure. In this regard Oceans Research is an ideally suited organisation to support, as our scientists and their research are some of the most highly profiled in the research world, giving supporters a rare opportunity to capitalise on this exposure. For other supporters, it is more about making a personal contribution to the oceans future and as an Oceans Research supporter, you can have an intimate involvement with our projects and ensure, first hand, that your contribution is being utilised for its intended purpose.
Media exposure − Have your brand featured in Oceans Research´s numerous media productions and projects, from television documentaries to news articles
Advertising – Gain advertisement and product reviews in our social media platforms (average yearly reach of more than 500,000 people),
Brand placement – Have your organisations brand portrayed on Oceans Research´s facilities including vehicles, boats, laboratories, and websites
Membership – Gain membership to the ´Oceans´ community
Research experiences – Gain unprecedented personal access to our research projects and adventures
Personal satisfaction – Be able to make a positive contribution to Africa´s oceans and wildlife
Professional conduct – Partner with an organisation that prides itself on professionalism and integrity. Ensure that your contribution makes a tangible benefit to understanding and conserving Africa´s wonders.
Supporter Testimonials
Developing connections across our oceans
Dr Paul Cowley
"Oceans Research provides us with manpower, boats and equipment for deployment. We would never logistically be able to manage all these sites ourselves so rely on these key partners"
Dr Paul Cowley has vast experience in the field of aquatic ecology and, alongside his role as Principle Scientist, he is an honorary professor and Research Associate at the Department of Ichthyology and Fisheries Science at Rhodes University. He also serves on the editorial board of the African Journal of Marine Science and is a member of the Ocean Tracking Network's (OTN) International Scientific Advisory Committee. Read more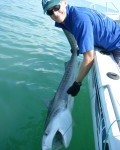 Prof. Nathan Hart
"Mossel Bay seems to have a reliable population of white sharks that are readily accessible. Oceans Research has been incredibly helpful in facilitating that research. It's a great place to come and do research, both because of the people that are here and the convenience of working with sharks that are just five minutes away. They have white sharks in Australia but it's harder to find a concentrated aggregation of sharks and it's actually more expensive to do this work in Australia. We have a limited budget and we need it to go a long way. We have to do a lot of boat trips to get sufficient interactions with the sharks".
Prof. Nathan Hart is an expert in comparative neurobiology and specialises in animal sensory systems. He completed his PhD on colour vision in birds at the University of Bristol, UK, before moving Australia in 1999, and his is now at Macquarie University. Read more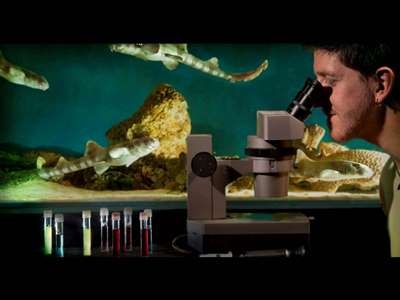 Dr Ryan Kempster
"We went down to South-West Western Australia and in four days, we only got one white shark who just passed by briefly. Then we came to Mossel Bay and couldn't believe the activity. For our data purposes, we got what we needed in just a couple of weeks"
Dr Ryan Kempster is a shark biologist and founder of the non-profit organisation Support Our Sharks (SOS). He completed his Ph.D. at the University of Western Australia (UWA) in the sensory biology of sharks. Read more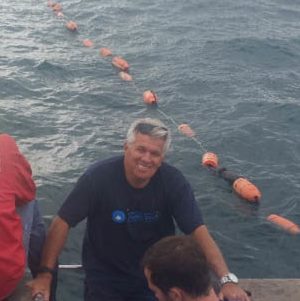 Paul von Blerk
"Thanks to Oceans Research, we couldn't have conducted this experiment without… Mossel Bay is the ideal test sight. Ideal conditions and an abundance of white sharks …. For white sharks, even though I've spent a lot of time in Gansbaai, there's no comparison"
Paul von Blerk specializes in electronic shark repellents with the Kwazulu-Natal Sharks Board Maritime Centre of Excellence. He's worked with the Shark's Board for 34 years, and for the last couple of decades, he's dedicated his life to creating and testing an alternative, eco-friendly system that keeps both bathers and sharks safe. Read more
Become a supporter
Contact us for more information on how you can support Oceans Research, and you can join the list of following organisations who have helped to shape our work.