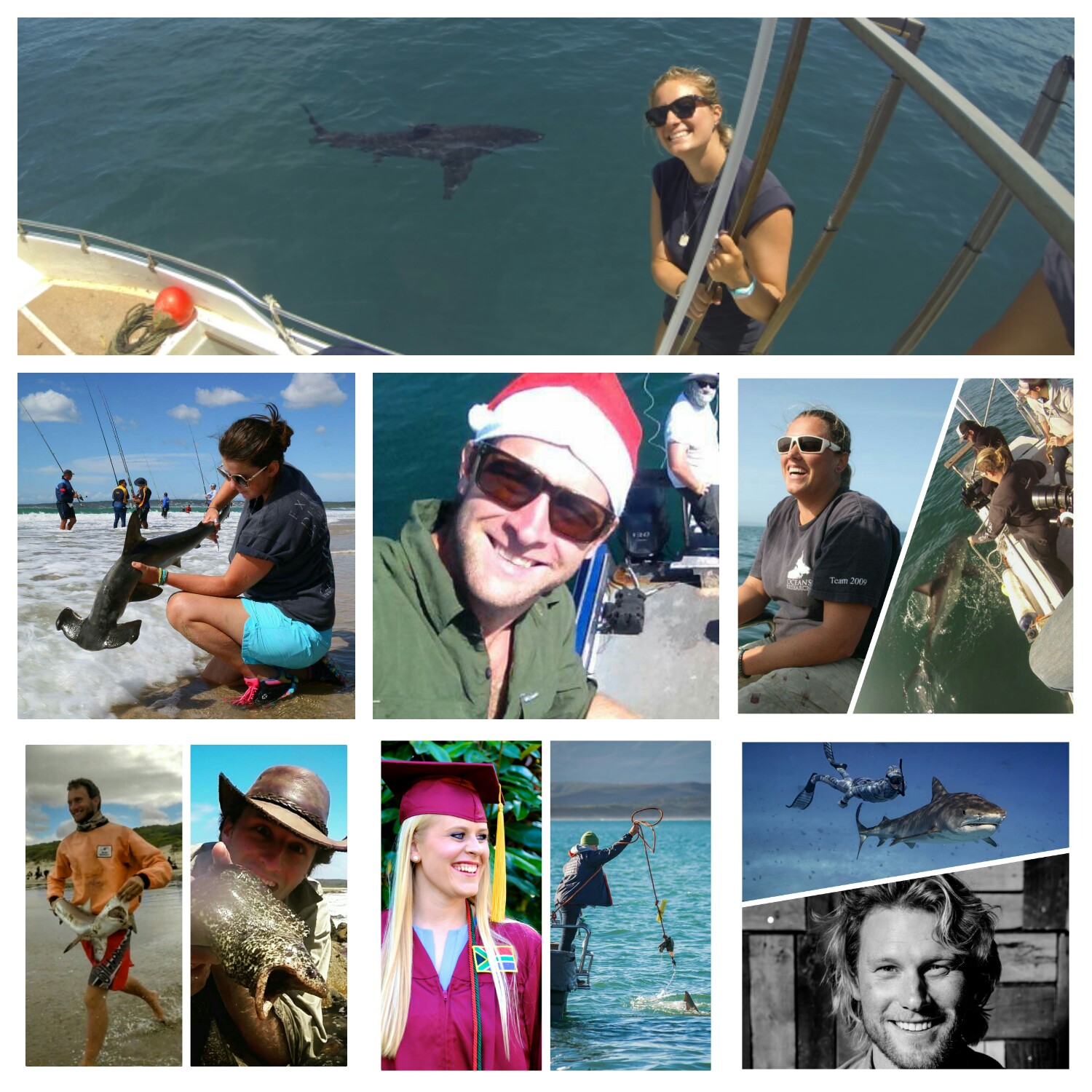 Oceans Research Reviews
Posted by Dr Enrico Gennari on April 18, 2016
Feedback from past interns and current field specialists: find out what our past interns, current field specialists and post grads have to say about their experiences with us.
Oceans Research provides and facilitates innovative and dynamic research relevant to the management and conservation of Southern Africa's wildlife. Find out what our past interns, current field specialists and post grads have to say about their experiences with us.
Riley Elliott, PhD candidate, marine science, University of Auckland
BSc (Hons.) in Zoology, Ontago University, NZ
MSc in Marine Biology, Ontago University, NZ
I was halfway through undergraduate research on dolphins and had a run in with a small shark that made me panic to the surface while on scuba. Once registering it was harmless, I asked myself why I had reacted that way, as the only lesson I had on sharks at that stage was from the fictitious movie Jaws. When I got back to university I saw the original flyer for Oceans Research internship, where I could go learn from the real McCoy, the Great White shark. So my original aim was to find out what sharks were and if our general, societal reaction to them was justified.
The internship over exceeded every expectation I had, to the point where I went back and worked for Oceans Research as a field specialist. The skills I learned in both instances have entirely molded me into the shark scientist I am today. Without such experience I would not have been able to undertake my present PhD research in New Zealand.
As an Oceans Research intern, you will learn field skills necessary to apply your academic knowledge and methodology. Without such field experience you will struggle to execute or get permission to undertake stimulating field research on mega fauna. Through such application, you will learn how to take theoretical tertiary lesson, and apply them to actual physical data gathering and experimentation. Mega fauna exist outside labs and in dangerous conditions. Without experience you will not be able to undertake mega faunal research. Above and beyond this, you will learn team management, self-management and also have an incredible time in what is one of the most beautiful and fun areas of the world.
All of us as kids want to study the big animals. Only a select few get to however. The major reason is access to risk management. Going through a structured institute like Oceans Research, you gain such experience which is otherwise very hard to come by. It was single handedly the reason I was able to walk into my current supervisors office and get permission to satellite tag blue sharks on the open ocean.
Not to be vein but Google me to show you a factual path led by one of the very first interns at Oceans Research. I owe my career to this institute and I will never forget that. Today it is twice the institute it was, so the potential benefits to you as an applicant are far greater.
Ralph Watson, PhD candidate, marine science, Rhodes University
BSc Biology and Medical Laboratory Research, Saxion University, NL
MSc in Applied Marine Science, University of Cape Town
Oceans Research is excellent in providing hands-on fieldwork experience to people interested in marine biology. There are a lot of options for interns to get hands on experience with various methods used in shark research.
Previous field work experience is not important, as long as they are willing to get their hands dirty learning new skills.
A lot of future employers look at previous work experience in prospective employees. Having field work experience and, especially in marine biology, boat experience are favourable additional skills. Additionally Oceans Research provides courses for many skills useful in a marine biology career, e.g. statistical, genetic, and acoustic telemetry.
Dorien Schroder, Educational Officer, Dutch Shark Society
BSc in Biology, Utrecht University
MSc in Limnology and Oceanography, University of Amsterdam
When I first joined Oceans Research as an intern, I was hoping to learn more about doing field work. I was always interested in marine megafauna and it is difficult to find a better place than Mossel Bay to do research on them. As part of my masters programme, I investigated the effect of environmental conditions on white sharks and the many years of data collected by Oceans Research was invaluable.
The internship definitely exceeded my expectations. It is always difficult to imagine what exactly you will be doing, but the skills I learned during my three months with Oceans Research would have taken me years with other institutes to do. Besides the skills you learn during the fieldwork, you also make friends and useful connections for the rest of your life.
The first thing I was told when I arrived at Oceans Research is that you will gain as much from the internship as you put into it. So I would advise participants to say yes to every opportunity to help out, even if it is picking up fish from the freezers, because by doing that I had the opportunity to return to Oceans Research and work as a Field Specialist. Anyone can accomplish whatever their goal is during the internship, you just need to roll up your sleeves and not be afraid to get dirty.
The experience I gained during my time at Oceans Research has definitely helped set me apart from other people in the same field. Not many people have theodolite tracking of cetaceans, acoustic tracking of white sharks and aquarium maintenance and husbandry on the same cv. Working with the charismatic species that Oceans Research is investigating is also an extraordinary experience that you will not easily find twice in your life.
Oceans Research has definitely helped further my career and not just by offering me a job when I finished my masters degree. I am now part of the Dutch Shark Society and through them I'm closely involved with setting up projects such as the Great Eggcase Hunt and Dutch Caribbean Shark Week in the Netherlands. Without the experience of setting up projects, giving presentations and having in-depth knowledge about sharks that I gained at Oceans Research, I would be able to do this work.
Lauren Peel, PhD candidate, marine science, University of Western Australia
BSc (Hons.) in Zoology, University of Western Australia
When I applied to be an intern at Oceans Research, I hoped to gain practical field work experience and to decide if a career in marine research was right for me. I had always wanted to travel to the beautiful country of South Africa, and being able to assist with a white shark research project was too great of an opportunity to pass up.
From my first day as an intern at Oceans Research I knew that I was in the right place and I instantly wished that I could be there for longer. Every day was something new, whether it was heading out into the field and learning how to collect data for one of the many research projects, or staying on campus and participating in interesting theoretical courses. I have always had a passion for shark biology, so being able to work with the incredible white sharks of Mossel Bay was also a dream come true. I left the internship without a doubt in my mind that I wanted to pursue a career in marine science and will always be thankful for everything I learnt during my time at Oceans Research.
Aside from the obvious accomplishments of gaining hand-on field work experience and hours spent working on a research vessel, the Oceans Research program provides an abundance of other opportunities to its interns. Oceans Research is incredibly unique in the sense that it brings like-minded people from all over the world together in a beautiful setting to achieve the same goals. The wide array of research projects that are run through the research program range from studies of the small invertebrates in local intertidal pools, to the biology of the sharks, dolphins, and whales of Mossel Bay. Being able to experience each of these projects first-hand is a great way to find out which area of marine science interests you the most.
Often in research it's about who you know and not what you know, and the networking opportunities available to students - whether it be with other interns, the research team, or collaborators of Oceans Research who may be visiting campus – are worth taking advantage of. Everyone you meet in life has something to teach you, so never stop asking questions.
Another great thing about the internship program is that occasionally there is the opportunity for interns to return to Oceans Research as Field Specialists. Field Specialists are responsible for guiding and assisting interns through the data collection processes for each research project, and also for skippering the research vessels. I was fortunate enough to be offered a place as a Field Specialist after my internship, and I held this position for an amazing two years. During this time, I was given the opportunity to lead and manage numerous projects through Oceans Research, present lectures and courses to our interns, and speak publicly about the research that we are involved in. To top it all off, I spent over 700 hours on the water in Mossel Bay and witnessed some of the most spectacular displays of wildlife behavior I know I will ever see in my life. The more you put into the internship, the more you get out, so make the most of every opportunity.
Hands-on field work is important as it shows prospective employers that you have the ability to apply theoretical principles to practical research in the real world. Through the Oceans Research internship, interns are not only exposed to a variety of data collection protocols, but also to the experience of working in a wide range of weather conditions; the research doesn't stop just because it's raining. This in itself is beneficial, as it helps young scientists understand some of the difficulties of working out in the field and how to get around the logistical problems that often arrive when conducting research. Hands-on field work is also a great way to refine your understanding of experimental design and data collection procedures, and how these first stages of research are critical to the success of a research project overall. The field work techniques and experiences that I was able to gain throughout my time at Oceans Research greatly expanded my ability as a research scientist, and equipped me with a skill set that has definitely benefited my present PhD study of reef manta ray population dynamics and ecology through the University of Western Australia.
The Oceans Research internship can certainly help biologists in their current or future career. The skills and network that I developed during my time at Oceans Research both as an intern and as a Field Specialist, have greatly benefited my career in marine science and I use these skills on a daily basis while working on my PhD. I would not swap my experiences in Mossel Bay for the world, and I will always be thankful to Oceans Research for all that it has given me.
Dylan Irion, scientist in residence
BSc in Biology, University of Maryland
MSc in Applied Marine Science (Zoology), University of Cape Town
I was fresh out of a misguided University degree and looking for a change of pace. Most of my undergraduate courses were focused on human biology and I wanted something more zoological. I hadn't identified it at the time, but there was a latent interest in marine biology hidden somewhere inside of me that was screaming to be awakened. I joined the Oceans Research internship 6 years ago now and I haven't looked back.
Sometimes just getting started can be the most difficult task for students wishing to begin a career in research. There are a limited number of professors supervising a limited number of projects, resulting in a very competitive field. Showing that you are willing and capable of collecting data in sometimes harsh conditions and demonstrating an understanding of how to begin analysing that data are practical skills that you may not learn in your university coursework. These are skills you can learn at Oceans Research and will put you miles ahead of your classmates.
I've seen many interns go on to complete graduate degrees at very prestigious marine institutions, form their own successful conservation organisations, and form lasting friendships that may result in future collaborations down the line.
Olivia Seeger, field specialist
BSc in Biology, Meredith College, USA
When I interned with Oceans Research originally I hoped to decide which species of animals I wanted to work with, whether that be terrestrial animals or marine species. I also hoped to figure out if I wanted to do research in the future or head down another path.
This internship really helped me see what I wanted as a career and a future for myself and that is working with all types of marine species and getting hands on experience wherever I can.
Interns can hope to gain hands on experience with all types of marine species from invertebrates to marine mammals and to have an understanding of how to do research and all the work it takes to do an experiment. Hands on field work experience is very important.
Interns with Oceans Research gain so many different skills for a variety of projects that can help them with anything they might want to do with a masters or PhD.
Meghan Aulich, field specialist
BSc in Marine Environment (major: Marine Conservation), University of Tasmania
I decided to do the Oceans Research internship because I wanted the hands on, field work experience of a marine researcher and to experience all the challenges and triumphs that this includes. It gave me insight into what being involved in this type of research involves.
Interns can hope to gain a firsthand experience of what it takes to work in this field and a guide to what area of study they'd like to pursue in the future. They will also be part of ground breaking research and develop their own viewpoint on a globally controversial species while experiencing the marine environment at its most raw.
It is very important to have hands on experience in this particular field for two reasons:
The marine science field is viewed by the majority as a glossy, 'go pet the dolphins' field. And some of those students who wish to be involved in this field are fooled by this view. The Oceans Research internship allows students/potential researchers to experience the marine science field for what it really is. Out on a boat from dawn till dusk, with high seas, sea sickness and no sign of the animals you're out there for. Or long hours staring at a computer trying to sort and make sense of endless pages of data. Oceans Research gives interns an insight into this, allowing students to decide if this is in fact the field they want to be a part of.
The hands on experience offered at Oceans research in many different areas of study allows students/potential researchers to decide what area of study they are most interested in, most enjoy and therefore what area of study they would like to pursue in the future.
The Oceans Research internship can help biologist in their future career by offering new inspiration and passion for research ideas or can inspire a completely new area of study for a biologist.
For information on Oceans Research internship opportunities, visit our internship page.